Unlike women's accessories, men's accessories often focus on minimalistic designs that usually aren't as eye-catching. Much of men's jewelry consists of simple watches, thick bands, and smaller earrings that accent casual outfits. However, as trends come and go, there are many necklace options for men to choose from if they need a bit of bling to finish their outfits. Here you'll discover the most common necklace types for men that are the fashion moves right now.
Rope Chains
Rope chains are as popular as they are versatile. They're worn among a range of men, providing an elegant design that's eye-catching on its own.
Due to their spiral-like pattern, rope chains are some of the most durable options, since they don't usually include a pendant or medallion. However, if you'd like to add a charm, this option is your best bet.
Rolo Chains
Rolo chains are delicate, thin pieces that are the perfect options for men with a subtle style. You can wear these chains solo or adorn them with charms or pendants to take attention away from the chain itself. These dainty necklaces go great with any outfit.
Leather Necklaces
Leather necklaces are popular alternatives to metal chains, as they're lightweight and comfortable to wear every day. These necklaces are long lasting and can have a smooth or braided texture.
Figaro Chains
Figaro chains are necklaces that originated in Italy, consisting of two smaller circular links followed by an extended, oval-shaped link. These uniquely designed pieces of jewelry first became popular in the 1990s, and they're still making trending rounds today. Usually worn without a pendant, a figaro chain needs no additional sophistication, as it exudes class on all its own.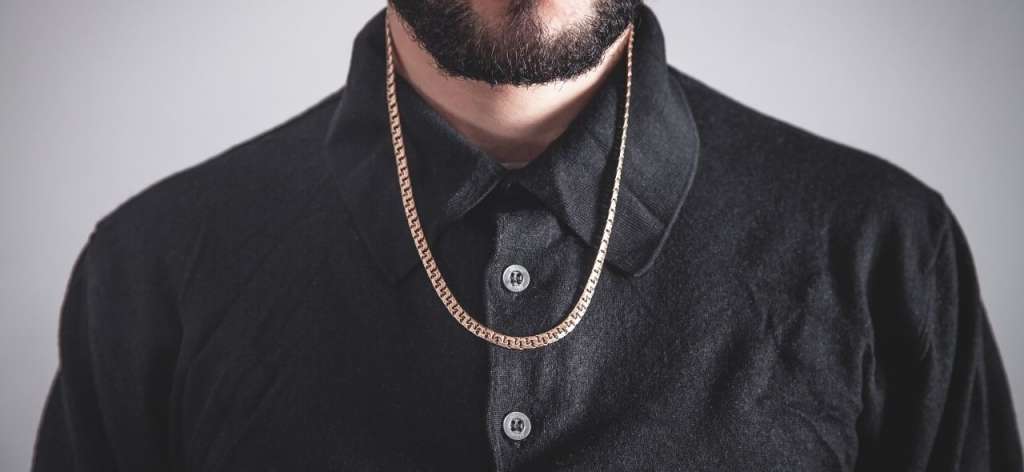 Beaded Necklaces
Beaded necklaces are unique and easily distinguishable from their metal counterparts. They're made from various materials such as puka shells, wooden beads, or stones and suit men with easygoing, casual senses of style. Some beaded necklaces contain gemstones that complement the beading and add fun to their designs.
These are only some of the most common types of necklaces for men; there are many more attractive options on the market that cater to men of all fashion styles and preferences. Many of these options require minimum care, but they can last for years.