A Better World Is Possible.

We Can Only Get There If We Stick Together.
Beautiful People of the Month
The most important part of our mission is to inspire people to make this world a better place. We work hard to bring you the voices of visionaries who dream about how the world should be! As we all know very well, people are actually born as assets, not as liabilities. We will give you a list of wonderful human beings that made a life mission to make the world a better place. Such a lofty ambition cannot come from anywhere, it has to come from a generous heart!
How can someone make the world a better place?
When you take a look through history, those heroes cannot be forgotten. Why do we have electricity? Because of Nikola Tesla, of course. Such heroes are helping other people to improve their lives! Why are they so special? Obviously that they have leadership, the ability to transform lives and of course, self-confidence. Every one of us has some purpose in life, and it is up to us.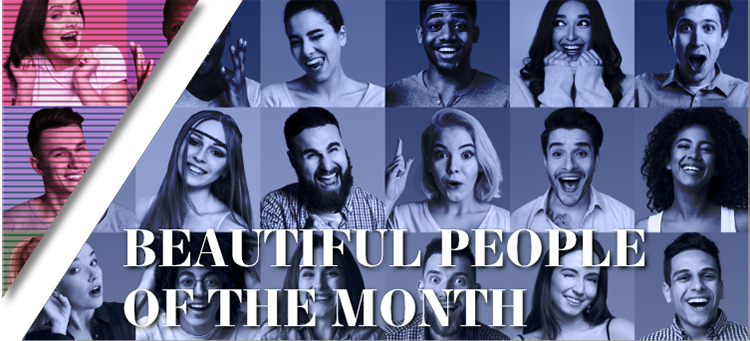 Beautiful People of the Month is focusing on those individuals who are making a difference in the world. Every year we will highlight 12 Beautiful People- who are making a positive change to better humanity. Learn more about these beautiful people around the world from the inside-out and get to know about human achievements, life purposes, struggles, and passions, which all make our world a better place for living. In this section of the magazine, we feature Powerful individuals that are presently making an example toward humanity. Beautiful People magazine, a revolutionary media that was created with a purpose to empower people and to create cultural change-makers. Our mission is also to highlight individuals all around the globe who are changing lives and transforming communities.
The following individuals are the world's Most Beautiful People 2020! 
They have dedicated their time and effort to show the people of the world that with a bit of effort and dedication the world can be great again. These individuals made us proud of being a citizen of the world and glad that we got to be in a generation to see them do what they do best. They are everyday citizens like you and me who decided to do something exceptional and not wait for anyone to come to do it for them.
Will we try to benefit humanity or will we just live day by day, as nothing concern us? Let's take a look at the list!